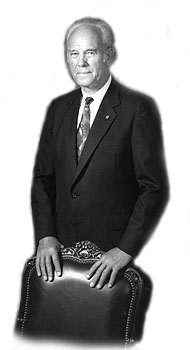 The Col. L Fletcher Prouty Reference Site is a focal point where researchers can locate and retrieve articles, books, videos, and tapes on a variety of subjects which Fletcher has written and participated in.
"This is the Official Site for all things Fletcher Prouty"

Col. Prouty was the model for the 'Man X' in Oliver Stone's film 'JFK'.
Col. Fletcher Prouty answered e-mail from this site while he was alive.
His responses and comments are posted here

Col. L. Fletcher Prouty
Jan 24th 1917 - June 5th 2001

Col. Prouty spent 9 of his 23 year military career in the Pentagon (1955-1964): 2 years with the Secretary of Defense, 2 years with the Joint Chiefs of Staff, and 5 years with Headquarters, U.S. Air Force. In 1955 he was appointed the first "Focal Point" officer between the CIA and the Air Force for Clandestine Operations per National Security Council Directive 5412. He was Briefing Officer for the Secretary of Defense (1960-1961), and for the Chairman of the Joint Chiefs of Staff.

At times he would be called to meet with Allen Dulles and John Foster Dulles at their home on highly classified business. He was assigned to attend MKULTRA meetings. In this capacity Col. Prouty would be at the nerve center of the Military-Industrial Complex at a time unequalled in American History. He has written on these subjects, about the JFK assassination, the Cold War period, and Vietnamese warfare, and the existence of a "Secret Team". He backs up his his work with seldom seen or mentioned official documents - some never before released.

Fletcher Prouty offers a rare glimpse of the "Power Elite" as described by Buckminster Fuller, or "The High Cabal" as Winston Churchill refered to them; and how they really operate. Those who have not been in a position to witness events such as these from the inside would not understand how invisible but ultimately effective they and their power structures are.

Len Osanic
Web site administrator

If you have any questions, or are interested in his CD-Rom
you can reach Len Osanic by E-mail at osanic@prouty.org
or call 604 525-3974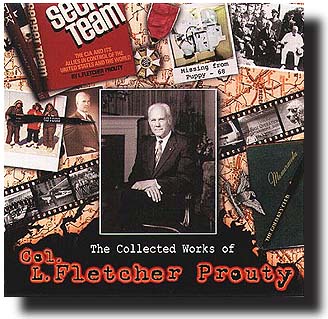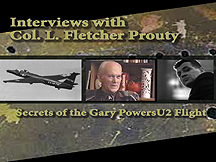 1 hour DVD explaining what really happened with
the Gary Powers U2 flight - a secret of the Cold War.

Col. Prouty Reference Site